Orange & Honey Roasted Pork Tenderloin
Orange & Honey Roasted Pork Tenderloin
Pair with Diamond Collection Claret
Ingredients:
For the rub:
3 tablespoons fresh rosemary, minced
3 tablespoons fresh sage, minced
3 tablespoons fresh thyme leaves
5 garlic cloves, minced
zest 1 orange
1 tablespoon kosher salt
1 teaspoon grated fresh ginger
1/4 teaspoon smoked paprika
For the pork:
3-3.5 lb organic pork loin
extra virgin olive oil
3 orange slices
zest 1 orange
1/4 cup orange juice
3 tablespoons wildflower honey
2 tablespoons grated fresh ginger
1 garlic clove, minced
1 teaspoon rosemary, minced
1 teaspoon thyme leaves
1/4 teaspoon kosher salt
1 handful rosemary sprigs
1 handful thyme sprigs
1 handful sage leaves
3 tangerines, sliced
Directions:
Preheat the oven to 450 F and gather a large roasting tray lined with aluminum foil.
In a small bowl, combine all the rub ingredients together.
Using your hands, coat the pork loin with a liberal amount of olive oil on all sides.
Coat the rub equally over all the pork loin.
Place the pork loin onto the roasting tray and add the slices of orange down the top.
Begin to prepare the basting sauce by combining the orange zest, orange juice, honey, ginger, garlic, rosemary, thyme, and salt into a small saucepan over medium-high heat. Bring the ingredients to a low boil, stirring occasionally until it begins to thicken into a syrup consistency about 10 minutes.
Roast the pork loin for 15 minutes at 450 F and then turn down the heat to 375 F and continue to roast for 60-70 minutes. Pork usually takes 25 minutes per pound and final the internal temperature should read 145 F. Baste the sauce and pan juices over the pork loin every 20 minutes or so.
Once roasted, allow the pork to rest for 15 minutes on a wood cutting board. Cut the pork loin into 1/2"-1" rounds.
To serve, add the pork loin rounds onto a serving platter and garnish with the fresh herb sprigs adorned around the roast with a few tangerine slices tucked in on the side.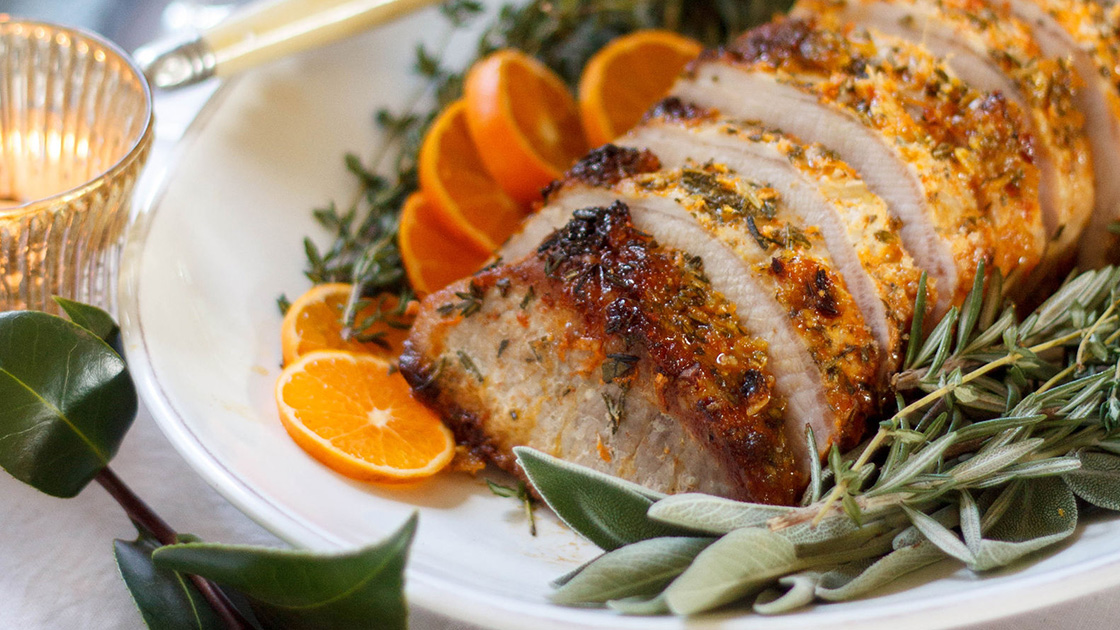 Recommended Content
Tags