Pecan Crusted Salmon with Roasted Pineapple
Pecan Crusted Salmon with Roasted Pineapple
Pair with: Diamond Collection Chardonnay
Ingredients:
1/4 cup fresh pineapple juice
2 tablespoons grated fresh ginger
2 tablespoons honey
2 garlic cloves, minced
1 1/2 tablespoons whole grain mustard
1/2 teaspoon kosher salt
1/4 teaspoon cayenne pepper
1/4 teaspoon ground cumin
1/4 teaspoon cracked black pepper
1 lb wild caught salmon fillet or fillets, skin on
1/4 cup chopped pecans, finely minced
2 tablespoons panko breadcrumbs
1/2 whole pineapple, cored and diced
extra virgin olive oil
2 cups chicken stock
1 garlic clove
1 cup quinoa
1 teaspoon red pepper flakes
Directions:
Preheat the oven to 425 F and gather a large roasting tray lined with aluminum foil.
Combine the pineapple juice, ginger, honey, garlic cloves, mustard, salt, cayenne pepper, ground cumin, and black pepper to a small bowl.
Coat each salmon fillet with the marinade equally and place them back onto the plate or into a Ziplock bag and set it in the fridge for at least 1 hour. Ideally 4-6 hours in the fridge if time allows.
Meanwhile, prep the nut crust by combing the pecans and panko breadcrumbs into a small bowl.
Once you are ready to cook, allow the salmon to come up to room temperature and discard any juices in the bag or on the plate.
Place the salmon fillets onto the roasting tray skin side down. Evenly sprinkle the pecan crumb mix onto the top of each fillet.
Scatter the pineapple chunks onto the roasting tray around the salmon. Lightly drizzle the pineapple with olive oil and a pinch of salt.
Bake the salmon for 15-20 minutes until the salmon is opaque and easily flakes with a fork. Turn the pineapple once or twice on the tray to allow them to caramelize evenly.
While the salmon is roasting prepare the quinoa by bringing the stock and garlic clove to boil in a medium saucepan. Reduce the heat and then add the quinoa and cover with a fitted lid. Simmer the quinoa until all of the liquid is absorbed. Discard the garlic or mince it and add it back into the quinoa. Remove from the heat and fluff with a fork. Season with the red pepper flakes and pinch of kosher salt.
Serve the salmon immediately on a bed of quinoa with the roasted pineapple with a side of greens or grilled asparagus.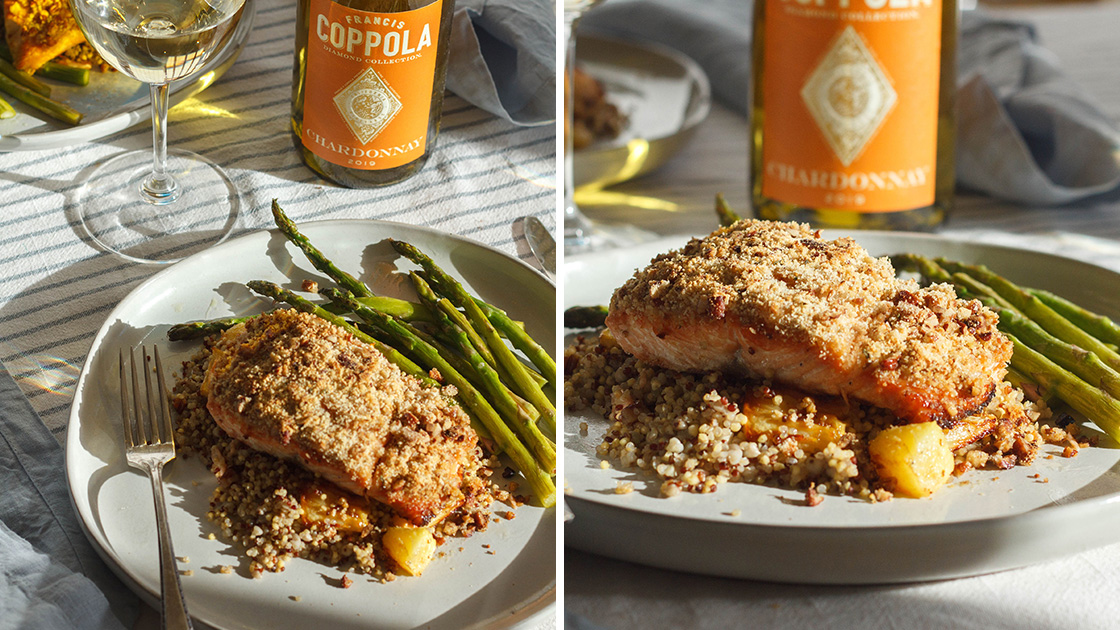 Recommended Content
Tags