Pan Roasted Rack of Lamb with Fingerling Potatoes, Swiss Chard, and Blueberry
This Pan Roasted Rack of Lamb recipe with Fingerling Potatoes, Swiss Chard, and Blueberry should be paired with: Director's Cut Cabernet Sauvignon, which will be featured by Winemaker, Evan Schiff in the Wine.com 's Taste of Sonoma Red Wine Rotation. 7/29 at 4:00 pm PDT.
Cabernet thrives in Alexander Valley, due to warm weather, diverse soils, and ideal topography. Our wine enters with bold blue-fruit, then presents layered oak and firm melted tannins. Director's cut showcases a classic cabernet style that marries well with the vibrancy of the blueberry sauce over the lamb.
2 each lamb racks, about 1 pound each
Salt and pepper
2 pounds Fingerling potatoes
1 tablespoon extra-virgin olive oil
6 cloves of garlic, chopped small
1 or 2 bunches of Swiss chard
1 tablespoon butter, unsalted
1⁄2 yellow onion diced
1 cup blueberries
1 glass of dry red wine
1 cup chicken stock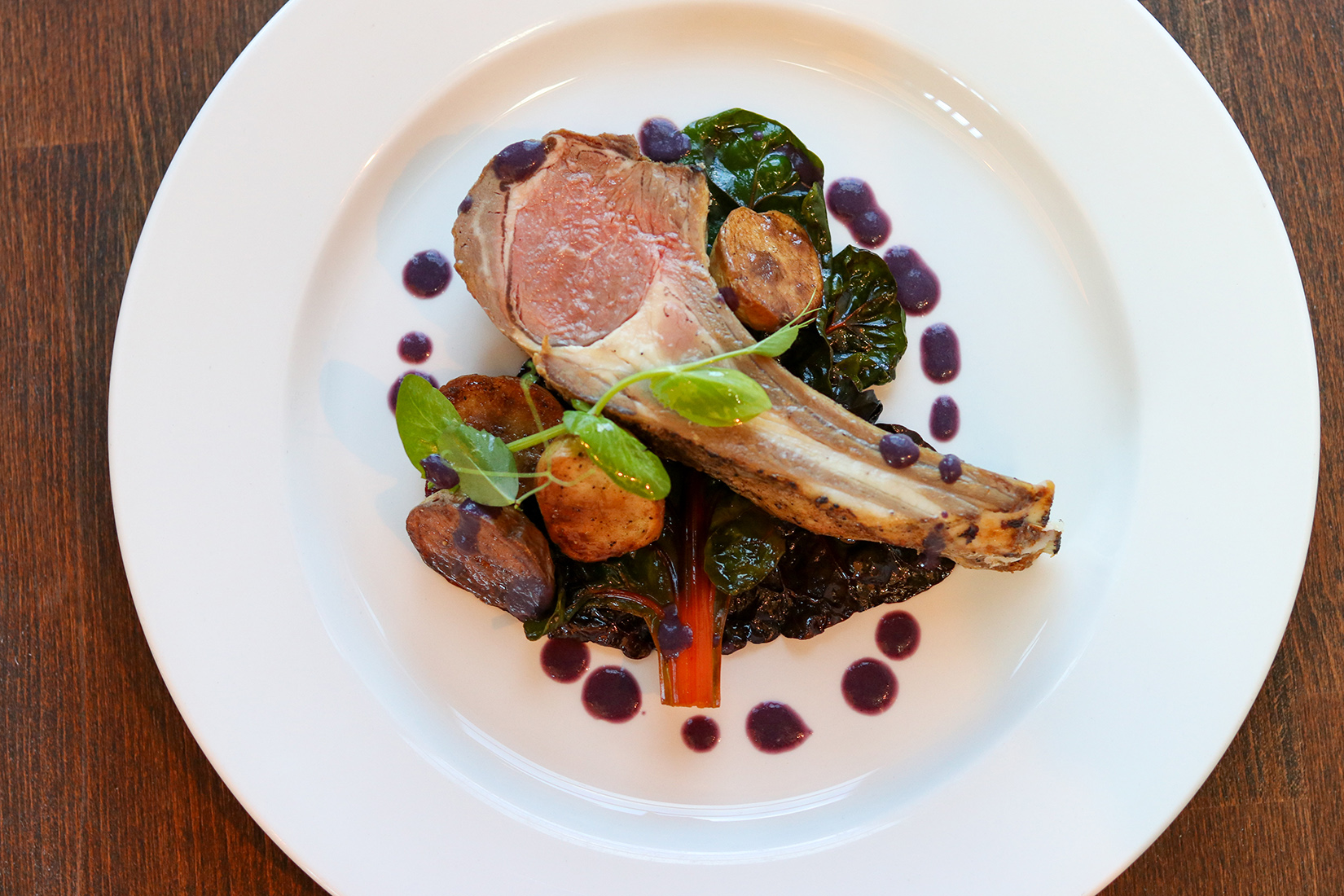 Preheat oven to 450 degrees. Toss the potatoes with salt and pepper, place in an oven proof dish, and put the pan into the oven. Season the racks of lamb with salt and pepper on all sides. Place the racks on a sheet tray with a rack and place in the oven until desired internal temperature is achieved, about 20 minutes for medium rare. Test doneness of meat with a probe thermometer and allow to rest at room temperature. For the sauce: place a small sauce pot over medium heat and add the butter and onion and cook stirring frequently until the onions are very soft, about 10 minutes. Add the wine and reduce the wine almost completely. Add the chicken stock and the blueberries and return the sauce to a simmer. Carefully puree the sauce in a blender or with a hand blender and season taste with salt and pepper. Set aside. When the potatoes are almost done, add the garlic and Swiss Chard to that same pan, stir all the ingredients and place back in the oven until the potatoes are cooked and the Swiss Chard is wilted. To serve, slice the racks of lamb and arrange on the plate with the potatoes, Swiss Chard, and some of the blueberry sauce.
Serves 4
Recommended Content
Tags