Fennel & Sausage Carbonara
Fennel & Sausage Carbonara
Pair with Diamond Collection Pinot Noir
Ingredients:
extra virgin olive oil
1 fennel bulb, fronds removed, thinly diced
5 Italian sausages or 1 lb minced pork sausage meat
1/2 teaspoon kosher salt
1/2 teaspoon fresh sage, minced
1/2 teaspoon fresh rosemary, minced
2 garlic gloves, minced
1 lb package tagliatelle, either fresh or dried
4 egg yolks
1 cup quality parmesan cheese, grated
1 cup pecorino romano cheese, grated
1/2 cup heavy cream
zest of 1 lemon
2 tablespoons flat leaf parsley, minced
1/2 teaspoon red pepper flakes
1/4 teaspoon cracked black pepper
Directions:
In a large sauté pan, add 3-4 tablespoons of oil olive and the diced fennel over medium-low heat. Sauté the fennel until it is soft and lightly caramelized, stirring occasionally for about 12-15 minutes. Lower the heat halfway through cooking to prevent it from burning.
While the fennel is cooking prepare the sausage meatballs by slicing down the center of each sausage and remove the meat from the casing into a mixing bowl or if using minced pork meat.
Add the salt, sage, rosemary, and garlic to the sausage meat. Using your hands, combine the meat until the herbs are well distributed throughout the meat.
Form marble size meatballs, about 1" in diameter, by rolling the sausage meat between your hands and set onto a clean plate.
Once the fennel is lightly caramelized, add the meatballs to the same sauté pan. Cook the meatballs turning them often to brown all sides. Continue to gently fry until they are completely cooked through, about 10 minutes and then remove from the heat.
While the meatballs are browning, fill a large stock pot of generously salted water and cook the pasta according to the package instructions, just until al dente.
As you wait for the pasta water to boil, prepare the sauce by combining the egg yolks, half of the cheese, heavy cream, lemon zest, parsley, red pepper flakes, and black pepper. Whisk the sauce ingredients together until smooth and set aside.
Once the pasta is al dente, drain the pasta and reserve 1 cup of the pasta water.
Add 1/2 of the pasta water to the sauce mix and give it a light whisk.
Add the pasta to the meatball and fennel sauté pan and pour over the sauce. Gently combine the pasta together, until all the noodles are evenly coated in a silky smooth sauce. If it becomes a little sticky, add a few more tablespoons of the pasta water and a drizzle of olive oil.
Sprinkle the remaining grated cheese over each serving and serve immediately.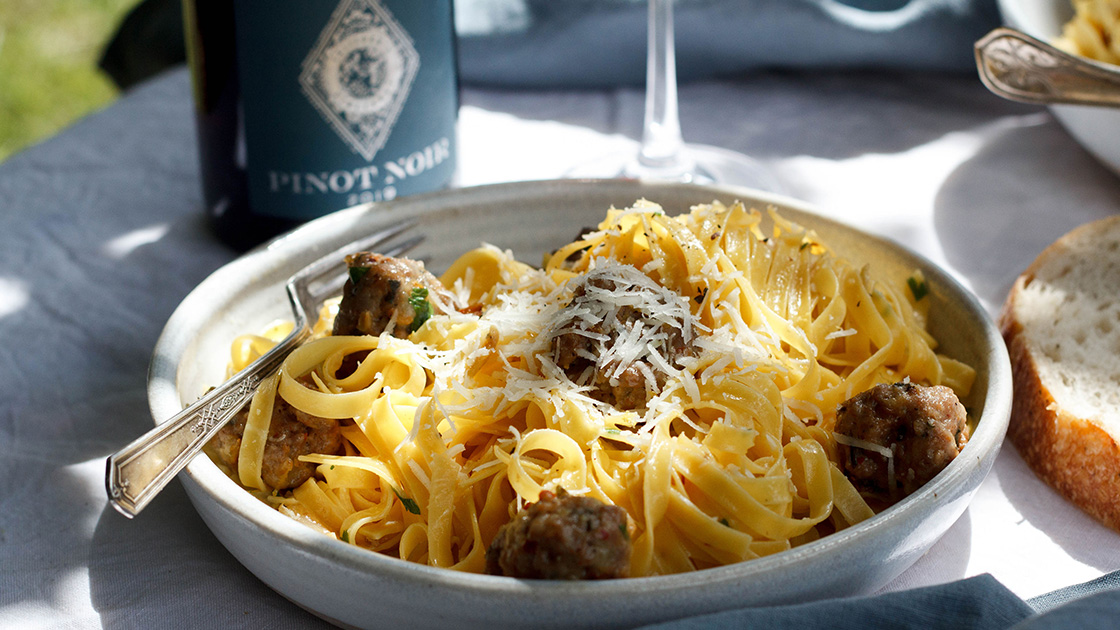 Recommended Content
Tags