Fennel & Mushroom Roasted Chicken Thighs
Fennel & Mushroom Roasted Chicken Thighs
Pair with Diamond Collection Appellation Series Cabernet Sauvignon Paso Robles
Ingredients:
2 leeks
3 garlic cloves, minced
8 oz baby bell mushrooms, thinly sliced
1 14.5 oz can cannellini beans
5-2 lb skinless chicken thighs (about 4-6)
3 tablespoons thyme leaves
2 tablespoons rosemary, minced
1/2 teaspoon kosher salt
cracked black pepper
1 cup heavy cream
1/2 cup low sodium chicken stock
extra virgin olive oil
Directions:
Preheat the oven to 400 F degrees and gather a large roasting tray.
Wash the leeks and trim off the green stalks and the root end. Cut the leeks into 1/2" thick slices. Add the sliced leeks to a colander and rinse them, gently breaking them up to remove any grit.
Pour the cannellini beans into a large colander and rinse well.
Add the leeks, mushrooms, and cannellini beans to the roasting tray.
Nestle in the chicken thighs in-between the leeks and mushrooms.
Sprinkle the thyme leaves, rosemary, and salt over the entire tray. Add a few cracks of fresh black pepper over the chicken.
Pour the heavy cream and chicken stock into the roasting tray, lightly spooning the liquid over the chicken thighs.
Drizzle a little olive oil over the entire tray and bake for 45-50 minutes. To ensure that the chicken thighs are done, insert a knife in the fattiest section and the juices should run clear or when the internal temperature reads 165 F.
Serve each chicken thigh with a spoonful of the creamy sauce on top.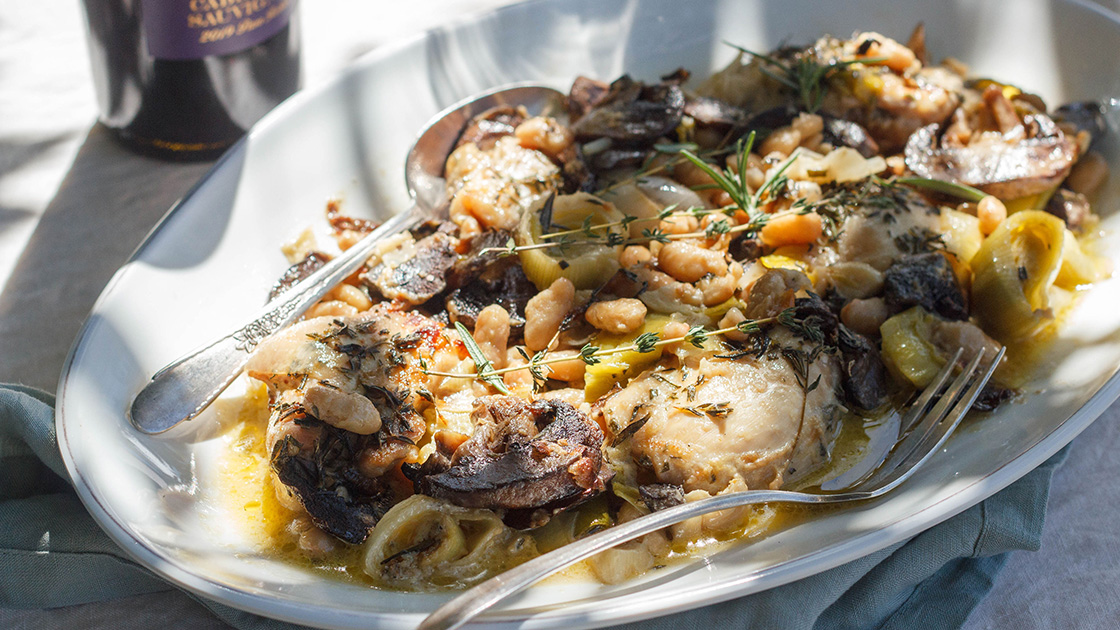 Recommended Content
Tags