BBQ Jackfruit Tacos with Salsa Verde and Corn Tortillas Recipe
Learn how to make Barbecued Jackfruit Tacos, Corn Tortillas and Raw Tomatillo and Avocado Salsa from authentic recipes from The Culinary Institute of America.
BARBECUED JACKFRUIT TACOS
4 (20 oz.) cans jackfruit in water, rinsed and drained
¼ cup avocado oil
1 large yellow onion, thinly sliced
6 garlic cloves, minced
1 tsp. kosher salt
2 Tbsp. ground smoked paprika
2 Tbsp. ground cumin
2 Tbsp. chili powder
¼ cup maple syrup
4 chipotle peppers in adobo sauce
1 Tbsp. adobo sauce, plus more to taste
¼ cup soy sauce
1 cup water, plus more as needed
⅓ cup freshly squeezed lime juice
16 Corn Tortillas, warmed for serving (recipe follows)
Shredded cabbage, for serving
Chopped cilantro, for serving
Toasted pumpkin seeds, for serving
1. Trim the jackfruit, removing center core. Chop or pull remaining pieces into shreds. Set aside.
2. Heat the oil in a large skillet over medium-high heat. Add onion and sauté until onions are golden brown, about 7 minutes. Add garlic and sauté until fragrant, about 20 seconds.
3. Add jackfruit, salt, paprika, cumin, chili powder, syrup, chipotle peppers and their adobo sauce, soy sauce, water, and lime juice. Stir to coat and reduce to a simmer. Cover and cook until the jackfruit has absorbed the sauce and the sauce has thickened slightly, about 30 minutes, stirring occasionally. Use the back of the spoon to break the jackfruit up into smaller pieces, if desired.
4. Serve the jackfruit and sauce with corn tortillas, topped with cabbage, cilantro, and pumpkin seeds.
CORN TORTILLAS
MAKES 14 TORTILLAS
1½ cups masa harina
¼ tsp. kosher salt
2 Tbsp. vegetable oil
1 cup hot water, plus more as needed
Corn flour, as needed
1. Combine the masa and salt in a bowl. Add the oil and stir to combine. Slowly stream in the water while mixing with your hand until the dough comes together into a ball.
2. Transfer to a lightly floured surface, and knead until it is smooth and elastic, about 2 minutes. Wrap in plastic, and let it rest at room temperature for at least 30 minutes or up to a few hours.
3. Divide the dough into 14 pieces lightly dust them with flour. Put them between 2 sheets of plastic wrap, and press them in a tortilla press.
4. Heat a large cast-iron skillet over medium-high heat. Cook the tortillas a few at a time until brown spots appear on the bottom, about a minute. Flip, and cook until browned. Wrap the cooked tortillas in a towel to keep them warm.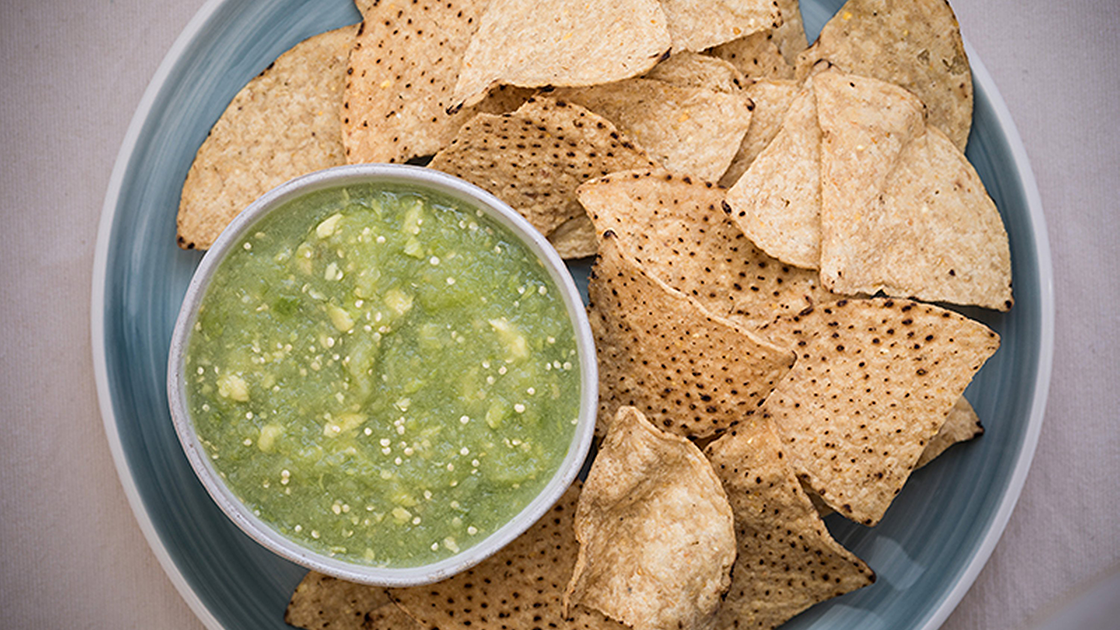 RAW TOMATILLO AND AVOCADO SALSA
MAKES 1 CUP
2 jalapeños, stems removed and halved lengthwise
10 tomatillos, husked, rinsed, and quartered
1 garlic clove, peeled
1 small white onion, peeled
½ cup coarsely chopped cilantro leaves and stems
1 small avocado, pitted, peeled, and cut into large dice
Kosher salt, to taste
1. In a blender, purée the jalapeños, tomatillos, garlic, and onion until smooth.
2. Add the cilantro and avocado and briefly blend until slightly coarse. Adjust seasoning with salt to taste.
Serves 8
Recommended Content
Tags