Apple, Blue Cheese & Caramelized Onion Burger
Apple, Blue Cheese & Caramelized Onion Burger
Pair with Diamond Collection Claret
Ingredients:
2 yellow onions, thinly sliced into rounds
3 tablespoons unsalted butter
4 strips uncured organic apple wood smoked bacon
1 - 1 1/2 lb organic ground beef (preferably 85% lean)
1 tablespoon Worcestershire sauce
1 tablespoon whole grain mustard
2 garlic cloves, finely minced
1 tablespoon minced flat leaf parsley
2 teaspoons fresh thyme leaves
1 teaspoon fresh rosemary, minced
1/2 teaspoon kosher salt
pinch cracked black pepper
vegetable oil
4 oz Gorgonzola crumbles
4 thin slices honey-crisp apple
2 handfuls arugula
extra virgin olive oil
4 brioche buns
Directions:
In a large 10" sauté pan, melt the butter over medium heat and then add the onion rounds. Stir the onions and cook until they are golden and then reduce the heat to low. Continue to cook for an additional 30-40 minutes over very low heat, stirring occasionally, until they are soft and caramelized with a rich brown color. Season with a pinch of kosher salt.
While the onions are cooking, add the 4 bacon strips to a small sauté pan. Cook the bacon over medium-low heat, until the fat is fully rendered and crispy. Cover the pan with a lid to prevent the fat splattering. Remove the bacon from the pan with tongs and place them on a paper towel lined plate. Blot the excess fat from the bacon and set aside for now.
Make the beef patties with your hands by thoroughly combining the ground beef, Worcestershire sauce, mustard, garlic, parsley, thyme, rosemary, salt, and black pepper into a mixing bowl.
Using your hands, form 4 1/2" thick patties. Press the center down on top of each patty lightly to make a shallow indent.
Preheat the grill to high heat and generously rub the grate with vegetable oil.
Once the grates are nice and hot, place the patties onto the grill. Cook for 3-5 minutes on one side and then flip the burgers with a spatula. Sprinkle on the blue cheese on top of each patty and close the cover of the grill. Continue to cook for an additional 5 minutes until the cheese is melted and the meat is cooked through. For rare, the internal temperature should read 130 F, medium at 145 F, and 150 F for medium-well done.
Set the burgers aside to rest for a few minutes.
While the grill is hot, slice each brioche bun in half and drizzle a bit of olive oil over each cut face slice. Grill the buns for 2-3 minutes until they are toasted and lightly charred.
To assemble the burgers, add one patty per bun, a scoop of the caramelized onions on top of the blue cheese, a small portion of arugula, an apple slice, and a strip of bacon.
Serve immediately with a side of fries or kettle chips.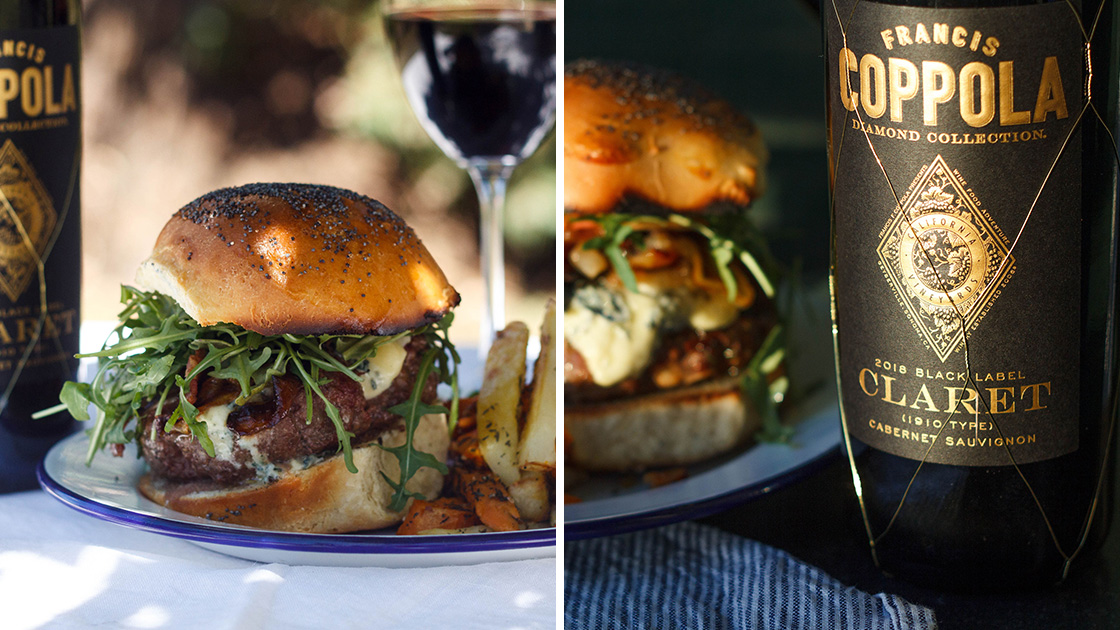 Recommended Content
Tags