Raspberry, Orange & Sparkling Rosé Slushies
If the winter holidays are for turkey and sugar cookies, and long summer days are for lobster rolls and hamburgers, then spring is for lemony shrimp scampi...and rosé. Super dry or fruity-sweet, with bubbles or without, sipping on a glass of your favorite rosé on a crisp, sunny afternoon is the epitome of the season.
The only thing that could possibly be better, I recently learned from cookbook author and fellow wine-lover Julia Turshen, is a rosé slushie.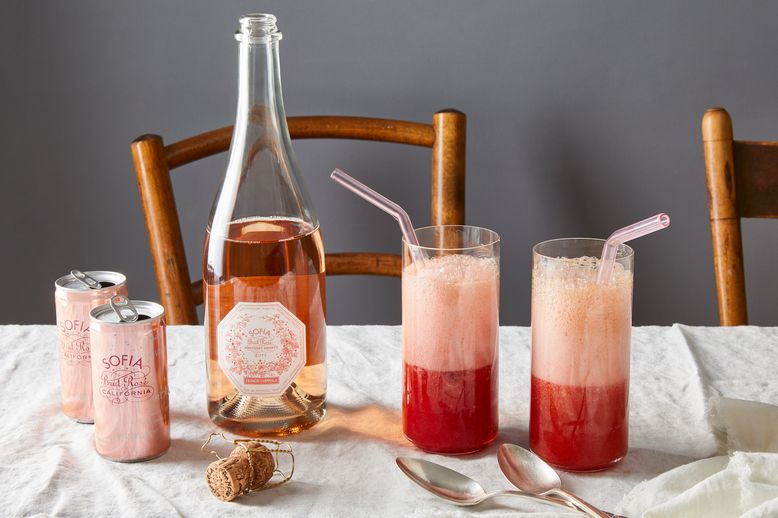 You might be wondering if a rosé slushie is anything at all like frosé, a buzzy drink typically composed of frozen rosé blended with strawberries and simple syrup. And the answer is yes, they are very similar. However, Julia's method requires far less time and even less fuss.

Her trick: Use your favorite fruit sorbet. That way, all you have to do is add a squeeze of citrus juice and a splash of wine, and give it a good mix. This not only saves you the hassle and multi-step process of freezing and blending that I mentioned before, but also allows you to experiment with different flavor combinations.
This spring, Julia's go-to combines raspberry sorbet with orange juice and sparkling rosé with notes of berries and cherries. But if sparkling white wine is more your speed, try pairing it with peach or mango sorbet and a squeeze of lemon juice. And if you're still after those frosé flavors, try pairing rosé (no bubbles) with strawberry sorbet and a bit of lime juice.
No matter which pairing you choose, make sure to let the sorbet sit out of the freezer for a little while so it can soften (if you're serving these slushies as dessert, pull out the sorbet before you sit down to dinner). Aside from that, Julia says, "all you need to know how to do is stir and they're perfect."
Raspberry, Orange & Sparkling Rosé Slushies
Ingredients
4 scoops raspberry sorbet
½ cup freshly squeezed orange juice
2 cups sparkling rosé, chilled
Directions
Get yourself four tall glasses and place a scoop of raspberry sorbet in the bottom of each one. Add 2 tablespoons of the orange juice to each glass and stir well to mix (let the mixture sit for a minute or two if the sorbet isn't soft enough to stir).
Add 1⁄2 cup of the sparkling rosé to each glass and stir again. Serve immediately with straws and spoons.
4
Recommended Content
Tags